1. Introduction
The need to stay connected and well-informed is more critical than ever. This is particularly true for individuals who bear significant responsibilities in their roles, such as IT administrators, emergency responders, and professionals tasked with managing security alerts. The consequences of missing an essential email can be far-reaching and potentially disruptive.
Thankfully, there is a solution that can help address this issue. Automatic Email Manager offers a powerful feature to connect to Pushover notifications. This feature acts as a valuable lifeline, ensuring that crucial information reaches you promptly and reliably.
Automatic Email Manager's integration with Pushover is like having a reliable assistant that ensures you're always in the loop, no matter where you are or what responsibilities you hold. It's a tool designed to make your life easier, allowing you to focus on what matters most while staying connected to critical information.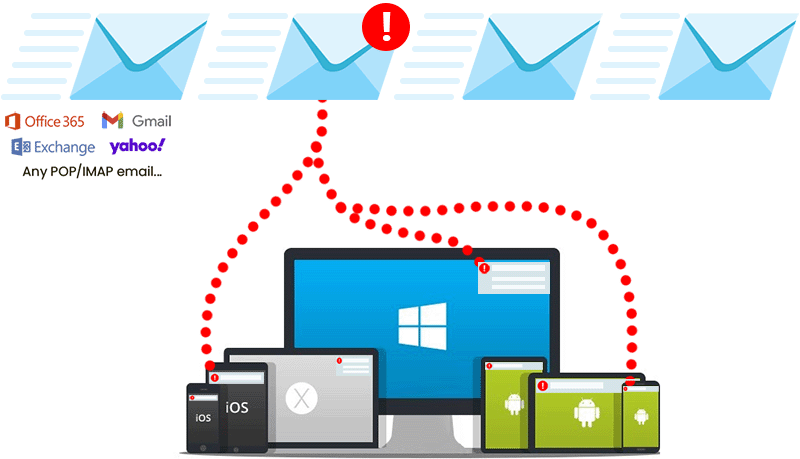 TL;DR

Too long; Didn't read!
Notification's app available on Ios, Android, Windows, MacOs
Set rules to process only critical emails
Works with all emailboxes: Office365, Gmail, Yahoo, Exchange, IMAP, POP, AOL,...
Runs on background, set it & forget it
Why Pushover?
Automatic Email Manager is designed to simplify email automation, and the Pushover integration takes it to the next level. Pushover is a reliable and versatile notification service that allows you to receive real-time alerts on multiple devices, including your phone (Ios/Android), tablet (Ios/Android/Windows), and desktop (Windows/MacOs). It ensures you're always aware of important/critical emails, no matter where you are.
The cost of PushOver is simple: $5 for a lifetime license per device, including 10,000 notifications /month.
Who Benefits from Pushover Notifications?
Automatic Email Manager can be used in various cases with Pushover. Here are some common scenarios reported by our customers:
Professionals with Important Responsibilities: Whether you're managing a project, handling client communications, or overseeing a team, timely email notifications are vital. Automatic Email Manager ensures you're on top of your game, never missing a crucial update.
Emergency Responders: Firefighters, paramedics, and other first responders need to be reachable at all times. Pushover notifications keep them informed about emergency situations, ensuring rapid response when every second counts.
Security Alerts: Security professionals can't afford to overlook critical alerts. Automatic Email Manager analyzes critical emails and sends immediate notifications, allowing for swift countermeasures.
IT Administrators: IT admins are responsible for maintaining critical systems and networks. With this solution, they can instantly receive alerts about server issues, network outages, or security breaches, enabling them to take immediate action.
How Automatic Email Manager works with Pushover
Automatic Email Manager seamlessly integrates with Pushover to bring you instant notifications on any device:
Automatic Email Manager checks for new emails, then trigger the action on specific keywords, attachments, senders, or email subjects. This condition ensures that you only receive notifications for the emails that truly matter.
Pushover app is installed on your various platforms, including iOS, Android, and desktop. You will receive notifications on your smartphone while on the go (Can Bypass the user's quiet hours to receive notification), on your tablet during meetings, and on your desktop while working.
With Pushover notifications, you can take immediate action based on the content of the email, whether it's addressing an urgent IT issue, responding to a critical client request, or coordinating emergency response.
2. How to setup Pushover?
Note: Pushover offers a free 30-day trial. After that, if you wish to continue using it beyond 30 days, you can buy a lifetime license for just $5 per device.
It's a cost-effective solution with excellent service.
Install the PushOver app on your iPhone /iPad or Android device or register your Desktop browser from here ».
Launch the app and it will walk you through creating a Pushover account and registering your device.
You'll get a new User Key e-mailed to you (which you can always find on your Pushover dashboard).
Your User Key is an identifier for Automatic Email Manager to send Pushover notifications to your devices.
Copy and paste your User Key into Automatic Email Manager and it will instantly be able to start sending notifications to your devices.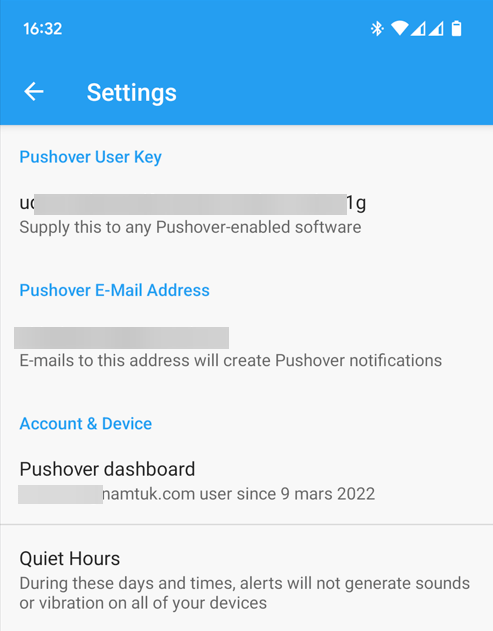 Read a detailled step-by-step procedure in our faq »
3. Open Automatic Email Manager and add the action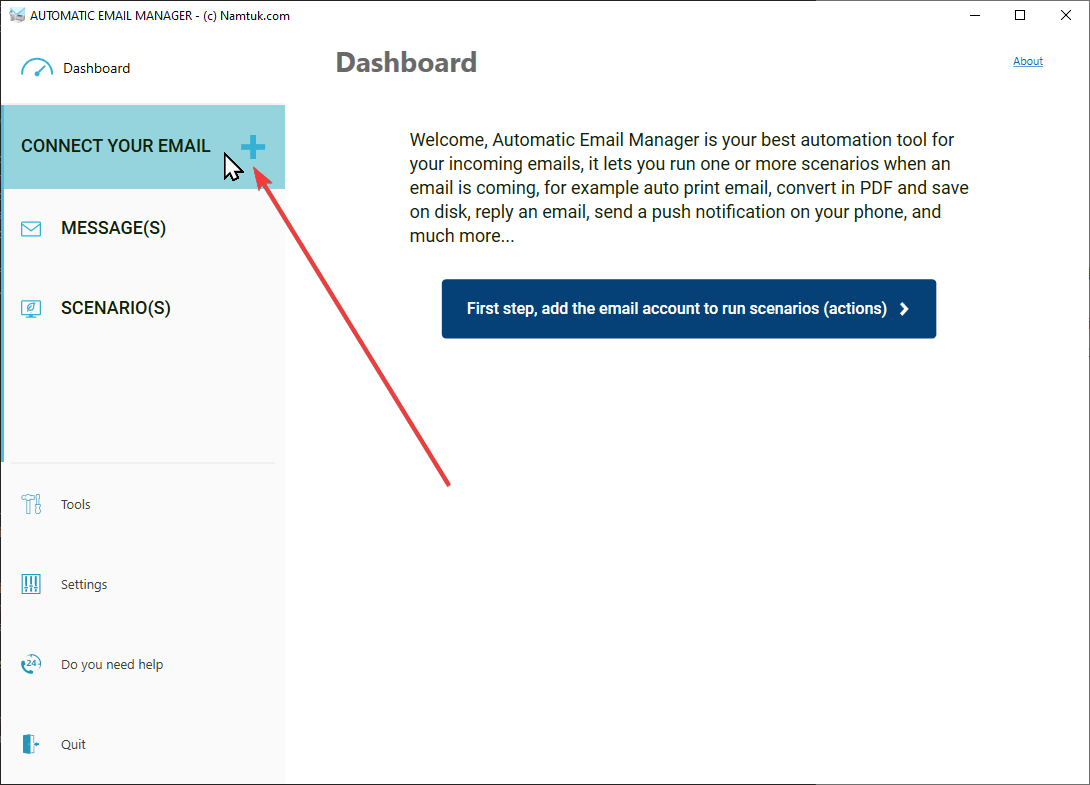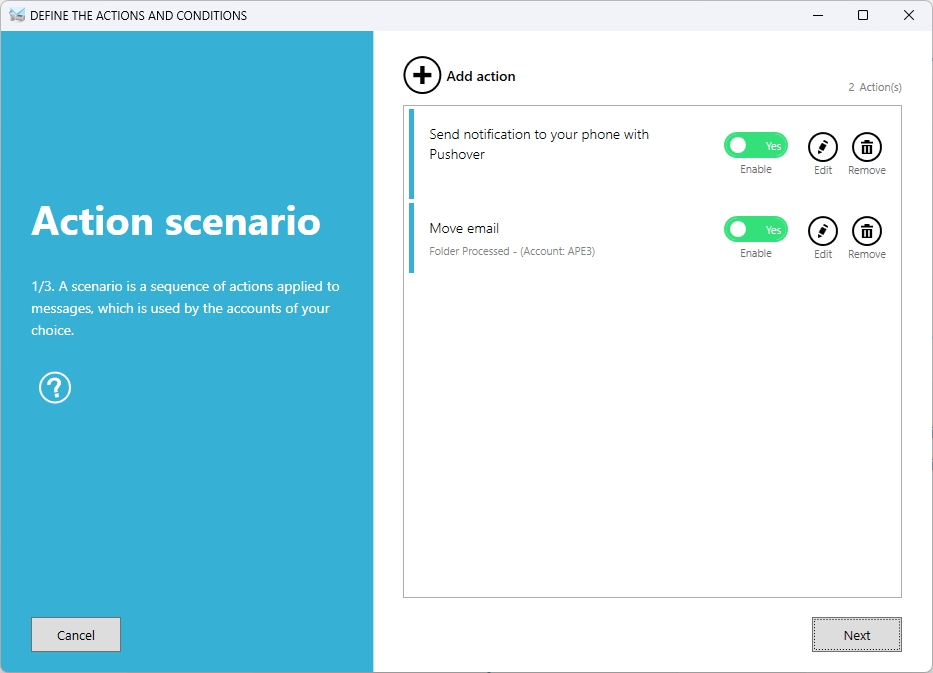 Step 2. Create a scenario, add the actions to use PushOver and move email to keep your inbox clean

Step 3. Set the rule(s) to filter critical emails
In this example, we're adding rules in the condition panel to filter emails that contain keywords like 'emergency' or 'critical' in the subject. You can also create rules based on the sender, recipient, attachment, or keywords in the email body, and much more.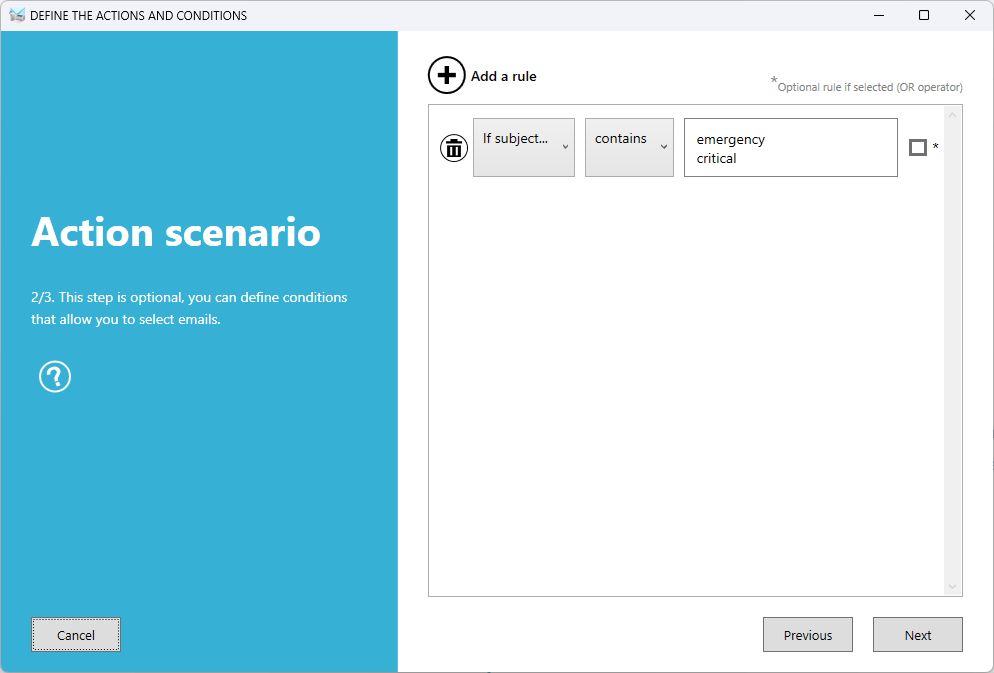 4. Conclusion
In today's world, timely communication is essential. Automatic Email Manager's integration with Pushover offers a powerful solution to keep you informed and in control. IT administrators, professionals with significant responsibilities, emergency responders, and security experts can all benefit from this feature. Never miss another important email – get Pushover notifications with Automatic Email Manager today and stay connected.
And don't forget: our software processes your email's data locally on the computer where it is installed. This means that you have full control over your data and no one else can access it without your permission. When you use the notification action Pushover, the notification message you set is sent to the third-party Pushover.