Archiving emails in PDF, in real time, is simple
Are you looking for a reliable and convenient way to archive your emails in PDF format? Look no further than Automatic Email Manager, the ultimate solution for email archiving. It is a simple and powerful action that lets you save your new emails in a consistent and searchable format, in real time.
You can choose the folder(s) where you want to store your emails, and Automatic Email Manager will automatically create subfolders based on the criteria you specify, such as year, month, day, sender email, subject, etc.
Select the folder and filename; Include variables like email address, date, etc
You can choose to place email body after attachments and vice-versa
Add page number, stamps on each generated page (like date/time)
Many options available for each attachment type
Unzip attachments to process them
Works with any storage (network drive, USB, cloud, ...)
At-a-glance
The best tool to convert emails in PDF and save on a network storage
Perfect for large company, administration, insurance,...
Exclude attachment(s) based on filename
Works in the background of your Windows computer or server
100% automatic » Save so many hours per day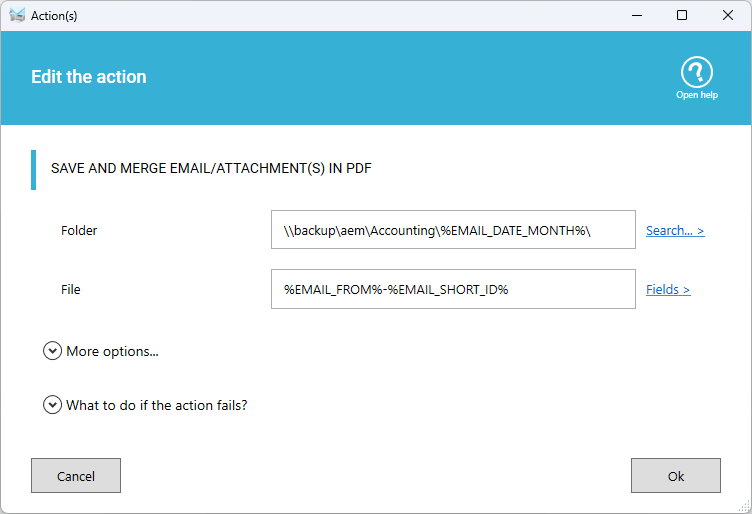 Use conditions to exclude emails & attachment(s)
When you use this action in a scenario, you can add a condition with one or more rules to match the email or attachments, when it matches the rule(s) the scenario is executed. These rules are based on:

You can also use a condition with 1 rule on this action,
this rule runs only for the action, and not for the scenario,
it is based only on the filename.
For example: Don't merge attachment with filename containing policy OR .tiff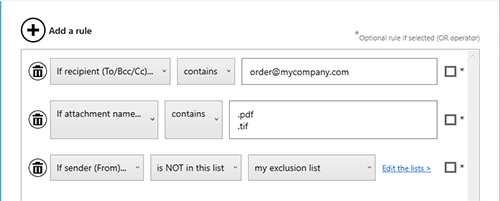 Questions and related tutorials for merging email and attachments