1) Download the program

When it ask you to save or run the program, you can click on 'Run', it will download then run automatically, go to step 2.
2) Install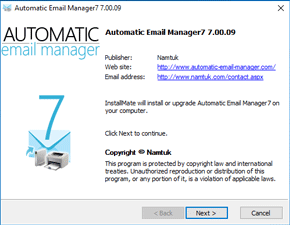 Follow the wizard instructions, by default eveything is good, just click on 'Next'...
3) Launch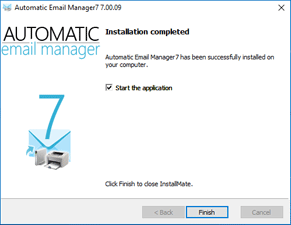 When installer has finish you can start Automatic Email Manager
Minimum requirements
Windows 10, 8, 7, Server 2016 / 2012 / 2008
Windows 32 & 64 bits
30 MB available hard disk space
Available in English, Français, Español, Portuguese, Danish, German, Italian, Norwegian, Swedish, Chinese,...
Information on security
Automatic Email Manager is safe and signed digitally with a trusted certificate.
The download itself contains only the 'Automatic Email Manager' software.
'Automatic Email Manager' will not uninstall other programs or add any non-'Automatic Email Manager' programs and files to your computer.