Introduction
Ex-Libris Alma is a (and the only yet) unified library service platform in the world; It takes care of managing print, electronic, and digital materials in a single interface. As a completely cloud-based service, Alma provides libraries with the most cost-effective library management solution in the industry.

Automatic Email Manager is used throughout various colleges, high schools and universities for the use of printing of Alma request, transit slips, receipt, invoice, loan receipt, on any letter or desired document. A local network printer cannot be used to print Alma request, so they are sent directly through an email format. It is very easy to use and works well in the background.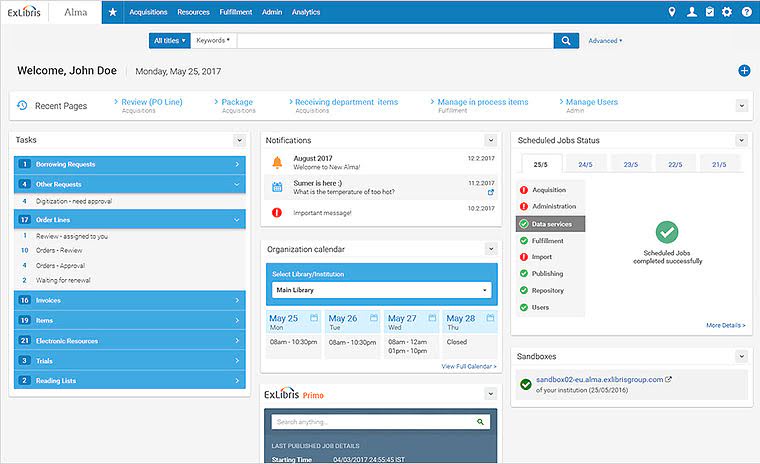 How to setup?


#1. in Alma
Each library/institution defines the email addresses of its local printers in Alma, which route staff-oriented, Alma-originating e-mails (including request and transit slips) to the appropriate printer.
In Alma configuration, set the email address which will be addressed when using a printer in Alma (Fulfillment Configuration menu - Printers)
Assign this printer account to a circulation desk (See 'Editing circulation desks' section of the Alma help)
#2. in Automatic Email Manager
Install Automatic Email Manager on your PC, download it from here »
Choose the 'Accounts' section then add the email account which receives the notifications from Alma (follow instructions on screen)
Add the action to print the email and/or attachments received. We would suggest to add an action to move email to a another folder after process (to keep clean your inbox, you can also take a look to this tutorial on zero inbox concept »)
Finally you can add conditions to print only specific email. For example, you can add a rule to print the only email with subject 'Resource Request Slip'.
You can find more tutorials on the Alma solution with Automatic Email Manager: