How to keep clean my inbox? #inboxzero
Tutorial / Good practise / For version: All
---
The message list in Automatic Email Manager is a mirror of your email inbox
, if you clean up your email inbox it will reflect in Automatic Email Manager (the message list is refresh ONLY when new email is available).
Your email inbox is
like your physical mailbox outside your house
, you do not leave your mail in... So try to do the same with your emailbox ;)
To clean up your email box automatically when new emails are coming, you can use 2 methods:
- Delete action in Automatic Email Manager which is radical because your emails are hard deleted:
Just edit the group of actions and add action to delete emails after x days or just after process. (You can also open your webmail to delete manually your old emails an start with a clean email box)
-
The best method is to use the move action
which let you move emails to another folder when it is processed, for example if you are using a Gmail account, log to your account and create a new folder (or label): 'Processed' or 'Archive' or anything else. Now in Automatic Email Manager when you add the action 'Move to' you can select this created folder. That's great to keep your emails in 'archive' folder.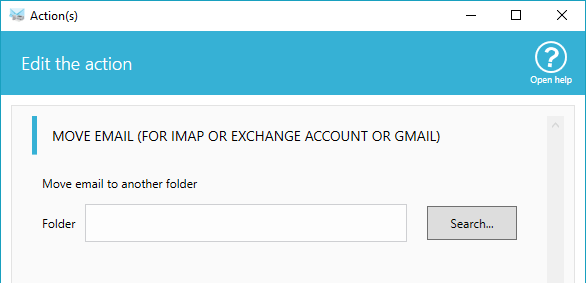 See also:
Delete emails directly on server »
---
Information: inbox zero, delete, move - Updated the Friday, March 23, 2018