Print email data to any printer
Doc. / Print / Pour la version: 7
---
This action will print the email body to the desire printer, let's take a tour of the options.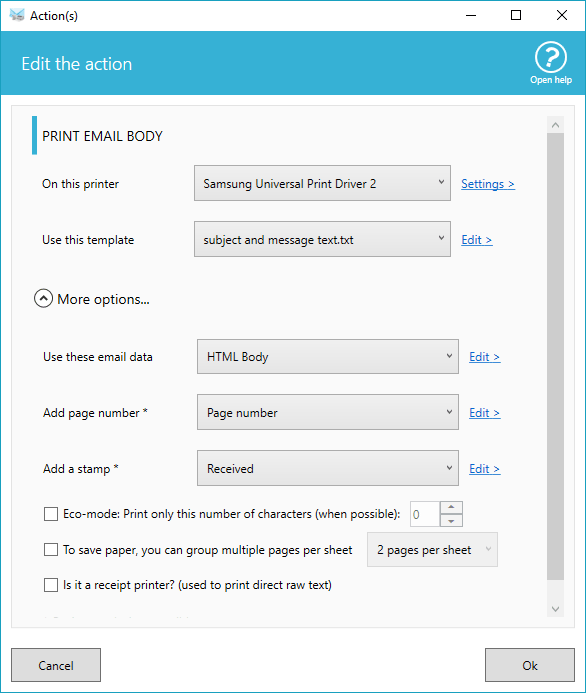 - On this printer: It lists all the printers installed, clicking on 'Settings' let you add specifics printer settings like margin, tray, duplex mode,...

- Use this template: Select the data printed with email body, you can also add or edit templates.
Click on 'More options':

-
Use these email data
: By default it use the html email data, but you can force to use other email data or a specific part of the email using the Data Extractor (
see here »
).
- Add page number: You can add a stamp of page number

- Add a stamp: like page number it is stamp added to the page, it can be Received on date, Shipped,... what you want in fact.

- Eco mode: Print only this number of characters: Similar to template in data extractor

- To save paper, you can group multiple pages per sheet: Select the number of page to print per sheet

- Is it a receipt printer: If set it will send raw text data to receipt printer, now with modern receipt printer you don't need to set this option
A voir également:
Print email with attachments in single job »

---
Information: print, email, body - Mis à jour le Monday, December 4, 2017