Merge and save email with attachments in PDF
Doc. / Save / Pour la version: 7
---
Ideal for archive, merge your email body with attachments in a single PDF file.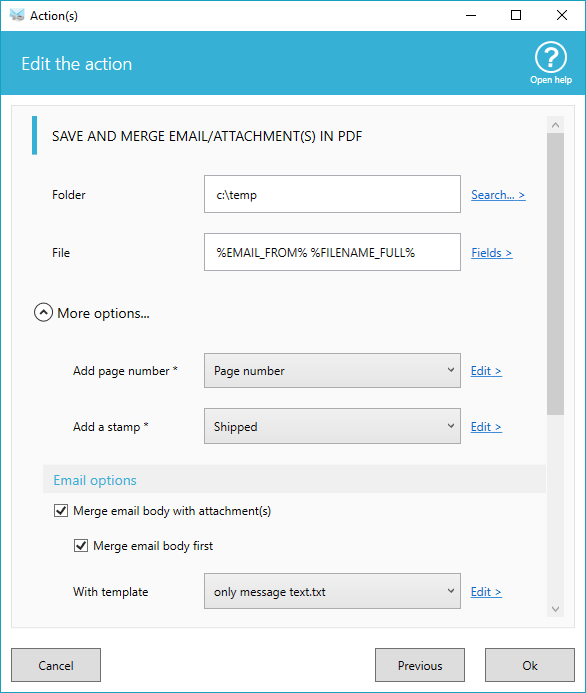 - Folder: Set the local or network folder, you can include variables fields. If folder doesn't exist it will be created automatically.

- File: Enter the filename you want, include fields to get unique filename. You can also use the functions to extract part of the field, read more here »

- Add page number: You can add page number in stamp format

- Add a stamp: Like page number it is stamp added to the page, it can be Received on date, Shipped,...


In the email options you can:

- Merge email body with attachment(s): Specify if you want to merge email with attachment or merge only attachments

- Merge email body first: Define if you want to print first the email or the attachments

- Use this template: Select the data model printed with email body, you can also add or edit templates.

- Use these email data: By default it uses the html email data, but you can force to use other email data or a specific part of the email using the Data Extractor (see here »).
In the attachments options you can: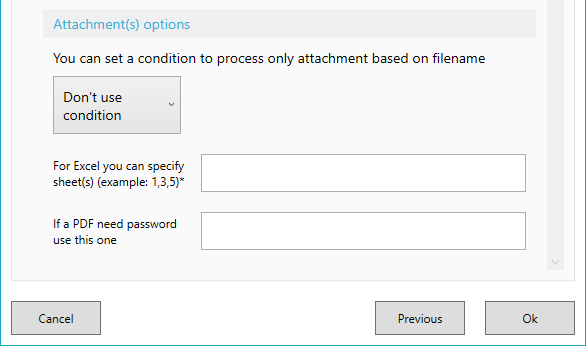 - You can set a condition to process only attachment based on filename: As it is describe you can use a condition to print only specific file, for example to print only pdf: 'Contains' '.pdf'


- For Excel you can specify sheet(s): If attachment is Excel it can print only a specific sheet


- If a PDF need password: If PDF is protected you can provide the password to use
A voir également:
---
Information: merge, email, attachment, pdf - Mis à jour le Monday, December 4, 2017