How to setup the SMTP to send emails
---
You can send automatic email from the software, like sending a confirmation, but before you need to specify your SMTP server which is generally provided by your internet provider or email provider.
Step by step:
1. Open Automatic Email Manager, click on menu 'File', then 'Options'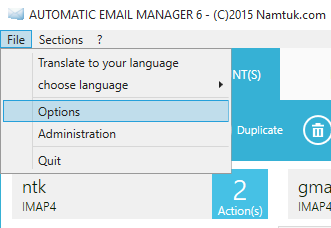 2. Now click on 'On sending email'
You have just to enter your smtp address, nothing more, other options are for advanced user. Your address should be something like this: smtp.yourdomain.com or mail.yourdomain.com or smtp.orange.fr or see your internet provider.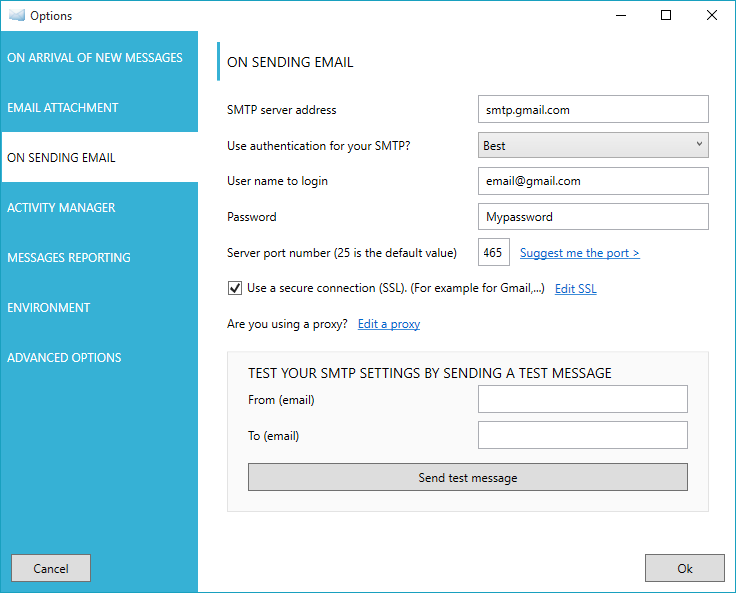 To use Gmail SMTP please use these settings:
Server address: smtp.gmail.com
Use authentication: Best
User name: your gmail address
Password: your password
Server port: 465
Check Use SSL
And that's all.

For Yahoo setup:
- Server address: smtp.mail.yahoo.com
- Use authentification: Best
- User name to login: Your full email
- Password: Your password
- Port number: 465 or 587
- Use a secure connection (SSL): Yesbr />
For Office365 setup:
- Server address: smtp.office365.com
- Use authentification: Best
- User name to login: Your full email
- Password: Your password
- Port number: 587
- Use a secure connection (SSL): Yes