How to translate Automatic Email Manager
Actually the editor is no more available in version 6 (like it was in V5), you have to do it manually.
IMPORTANT: We still offer a free license for a new translation, just contact us first to know if your language is not under translation.
---
Step by step:
1. Open Automatic Email Manager, click on menu 'File', then 'Translate'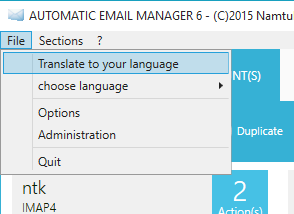 2. when file is opened you can translate the text easily, when finished just save under a new name.